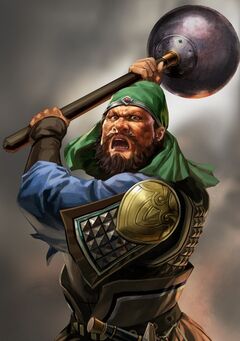 Wu Anguo
武安國 is a
fictional character
, presumably created by
Luo Guanzhong
, who appears in the novel
Romance of the Three Kingdoms
and various Three Kingdoms games by Koei.
Biography
Edit
During the Battle of Hulao Gate he challenged Lü Bu to a duel. Equipped with an iron hammer, he fought several dozen matches, but his arm was chopped off and he fled, leaving behind his iron hammer.[1]
References
Edit
↑ Koei. "Officer Encyclopedia" in Romance of the Three Kingdoms XI. Koei ltd., 2006.