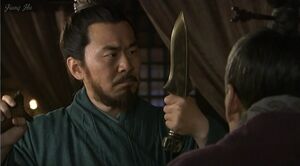 The
Seven Star Precious Sword
(
Qīxīng bǎodāo
七星寶刀) is a fictional weapon that was given to
Cao Cao
by
Wang Yun
in
Romance of the Three Kingdoms
. With it, Cao Cao attempted to assassinate
Dong Zhuo
.
The name of the sword has been translated variously. Some examples are:
Seven Star Blade
Seven Star Dagger
Seven Star Sword
Sword with Seven (Rare) Gems
Sword with Seven (Rare) Jewels


The hanzi means:
七 = seven
星 = star, planet or any point of light
寶 = treasure, jewel or prescious, rare
刀 = a type of Chinese sabre in the shape of a large knife

Seven Stars
Edit
Seven Stars, or qixing 七星, is not an uncommon term to be used in a name for a sword. The Spring and Autumn Annals of Wu-Yue (Wu-Yue chunqiu 吳越春秋) tells us that a certain Wu Yun 伍員 of the Wu state 吳國 during the Spring and Autumn period (722–481 BC) possessed an expensive sword which "contained the seven stars".[1]
References
Edit
↑ "「此吾前君之劍,中有七星,價直百金,以此相答。」"
Spring and Autumn Annals of Wu-Yue, chapter 2.
Ad blocker interference detected!
Wikia is a free-to-use site that makes money from advertising. We have a modified experience for viewers using ad blockers

Wikia is not accessible if you've made further modifications. Remove the custom ad blocker rule(s) and the page will load as expected.