Yellow Turbans Defeated
Zhang Fei answered: "I am willing to go." Xuande asked again: "How many soldiers do you need?" Fei answered: "I don't need a single soldier. I will go alone." Xuande said: "You can take 500 soldiers, just in case." Fei kept saying: "I'll be fine! I'll be fine!" Xuande insisted: "Just bring some soldiers." Fei said: "I will ask for some volunteers. If they come with me, the contributors will be enjoying the national reward for generations!" He exclaimed for the first time, seven soldiers with seven horses responded; the second time, three soldiers with three horses responded; the third time, two soldiers with two horses responded. He recruited thirteen soldiers in total. Fei said: "That is enough!"

Zhang Fei led the thirteen soldiers, went to Yan Province with the edict of pardon and arrived at the gate of the city. Zhang Fei looked around at the city. There stood enemies' turrets. Antlers were buried deep in the ground. Deep trenches were dug up. On the gate, plentiful wooden beams were swinging, abundant stones ready for catapults. The drawbridge was suspended and the pallet was put down. Zhang Fei yelled outside the trenches: "Who is on the city wall? Come out and talk to me!" A troop of soldiers showed up asking: "Who are you, soldiers?" Zhang Fei answered: "I am Zhang Fei, under the command of the Han marshal's vanguard." And he asked: "Who are you?" "I am Zhang Bao, the leader of Yan Province." Fei said: "I am here with the imperial edict of pardon from the Han. If you surrender, all of you will not only be pardoned, you will also be ennobled and rewarded. If you don't surrender, I will kill you all!" Having heard this, Zhang Bao went outrage. He was about to open the gate and encounter Fei.

Zhang Biao stopped him: "Don't do that! When I was at Xinglin villa, this was the guy who went straight to the praetorian tent even with many soldiers trying to block him. We lost Xinglin villa since then." Zhang Bao asked: "Then what should we do?" Biao said: "Just hold your ground in the city. I am afraid of getting tricked by Zhang Fei. Let's ask Yang Province for help." Zhang Fei shouted under the city gate, but nobody on the gate answered. Zhang Fei went outrage, cursed around the city but still nobody responded. Then Fei went to shout under the south gate: "Who are guarding this gate?" Still no answer.

Zhang Fei saw nobody answered, turned to his soldiers and said: "Ever since we joined the Han army, our saddles are never taken off horses, armors are never taken off our bodies. We sleep on top of bows on sand when the moon shines on us. We leave scales on the ground because we always lie with armors on. We have been fighting and killing so hard. We have suffered so much. Today, how about we just camp in front of the trench. There are many willows around. Let's just take off our armors in the shades of the willows, take a bath in the trench, and rest our horses under the trees." While resting, Zhang Fei pointed to the city and cursed again. Zhang Biao was so angry. He noticed that the soldiers and horses were defenseless when Zhang Fei was bathing in the trench. Zhang Biao said to his brother: "If I can't kill this guy today, I would rather die than being humiliated!" His brother Bao said: "Our army has over 500,000 soldiers, and thousands of military officers. Led by the troop of 100,000 soldiers, we carried the world before one. We have taken over two third of the Han territory. Look at all the lands that belong to us. Now there came Zhang Fei, who only took one little Xinglin villa but scared you. We shall give a big reward to whoever is dared to challenge Zhang Fei, no matter if he is a general or an ordinary soldier, and no matter who his brothers are." Zhang Biao said: "It was dark that day. My soldiers were not armed, and our horses were not saddled. When a great force came, we lost Xinglin villa ever since. Now Zhang Fei only has thirteen soldiers. If Zhang Biao leads five thousands of soldiers, I will catch Zhang Fei alive!" Zhang Bao said: "I totally agree with my little brother."

Immediately, Zhang Biao led five thousands soldiers, put down the drawbridge and came out of the city. Once Zhang Fei saw the soldiers coming out, he mounted a horse, put on his armors while riding. All his soldiers grabbed their weapons and ran to the south. When they arrived at Yaojia villa, which was 16.6 kilometers away from Yan Province, Zhang Biao was following right behind them. When they arrived at Xinglin villa, they saw a troop of about one thousand soldiers, who were led by the front vanguard Liu Bei. Liu Bei held double swords, and worn a brocaded tabard. He stopped the horse and shouted under the flag: "Who are the head of the traitors?" "I am Zhang Biao!" Xuande saw him, turned his horse and rushed towards him. The two engaged into a battle. After twenty rounds, five hundred soldiers sneaked from the back, led by the rearguard Jian Xianhe. In this tangled battle, Zhang Biao was defeated.
---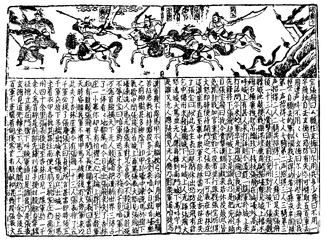 。。。寶?」張飛曰:「某願往。」玄德曰:「爾用兵多少?」飛曰:「不用一卒,飛獨自去。」玄德曰:「恐防有失,爾可將取五百軍去。」飛連聲叫:「不用,不用!」玄德曰:「爾少將些軍去。」飛曰:「我招些自願去的軍,如跟我去,得功者子孫永享國祿!」第一聲,招得七人七騎;第二聲,招得三人三騎;第三聲,招得二人二騎。共招得一十三人。飛曰:「足矣!」
張飛領一十三人,齎擎詔赦,前往袞州,到於城下。張飛觀瞻城池,敵樓戰棚,深埋鹿角,開掘壕塹,見城上檑木炮石極廣,拽起吊橋,放下棧板。張飛在城壕外高聲叫:「城上有甚人來打話則個!」道罷,一簇軍於城上來打話,問:「爾來的軍卒是誰?」張飛曰:「我是漢元帥手內先鋒將下張飛。」卻問城上:「爾是誰?」「我乃是把袞州頭目張寶。」飛曰:「我今齎擎漢朝詔赦來,若你投赦,盡皆免罪,封職加官重賞;如不投者,並行誅戮!」張寶聽得大怒,即時便待開門迎之。
張表曰:「不可。表在杏林莊,這漢單馬直至寨中,眾軍不能抵當,以此杏林莊失了。」張寶曰:「似此怎生?」表曰:「堅閉休出,恐防張飛有計。乞申揚州求救。」張飛城下大叫,城上人無語。張飛大怒,繞城大罵,並無人應。再轉到南門城下高叫:「守門是誰?」又無人應。
張飛見無人應,乃對眾軍道:「咱從為漢軍,鞍不離馬,甲不離軀,枕弓沙印月,臥甲地生鱗,苦征惡戰,相持廝殺,多少生受來。咱今日就著壕塹之前,柳樹甚多,柳陰下卸甲,於壕中澡洗,馬於樹下氣歇。」中間,張飛指著城上再罵。張表大怒,見張飛城壕澡洗,人馬無備。張表對兄言:「我今不殺這漢,能死不辱!」兄寶曰:「咱軍約迭五十餘萬,將有千員。咱軍十萬為首,縱橫天下,無人敢敵。咱把漢朝世界三停占了二停,看看地都屬咱。今日走出張飛來,失了杏林莊一小寨,你卻早有怕懼之心。不論上將下至散軍,如有敢敵張飛者,不問兄長,便賜重賞。」張表曰:「當日天時昏暗,我軍不慣甲,馬不被鞍;後有大勢軍來,以此失了杏林莊寨。今有張飛一十三人,張表將了五千軍,必捉了張飛!」張寶曰:「吾弟所言甚當。」
即時領五千軍兵,放下吊橋出城來。張飛見兵出城,一發上馬,坐著衣甲,各執其器,往南便走。前至姚家莊,約離袞州四十餘里,張表後追。至杏林莊,見一隊軍約一千餘人,為首將是前部先鋒劉備,手提雙股劍,身穿錦征袍,立馬在門旗下叫:「賊軍頭目是誰?」「我乃是張表!」玄德見道,兜轉坐下馬,二人便鬥。約二十餘合,後五百軍不覺襲著,殿後為首者簡獻和,混戰殺張表大。。。
Ad blocker interference detected!
Wikia is a free-to-use site that makes money from advertising. We have a modified experience for viewers using ad blockers

Wikia is not accessible if you've made further modifications. Remove the custom ad blocker rule(s) and the page will load as expected.