Schoolteacher Sun Received the Book from Heaven
"…I really don't know the answer. The king of the Qi state gave me only three days to solve this, or I will be in trouble.' The retainer said: 'That is not a big deal.' Ran asked: 'I will reward you if you know the answer. So is it a good sign or a bad sign?' The retainer answered: 'It doesn't indicate luck. It indicates that a mountain will collapse.' 'Why?' The retainer continued: 'coppers and irons are the descendants of mountains. Mountains are the origin of coppers and irons.' Ran understood. He went to see the king of the Qi state. The king met him at the court. Ran told the king: 'The phenomenon of copper and iron objects making noises doesn't actually indicate good luck or bad luck.' 'Then what is it?' Ran explained: 'It is saying that a mountain is about to collapse.' The king asked: 'How do you know?' Ran answered: 'Coppers and irons are the descendants of mountains. Mountains are the origin of coppers and irons. There is nothing to do with luck.' The king was very happy. He promoted Ran to a higher rank, and gave Ran's descendants promised ranks for generations. A few days after the discussion, a mountain in the Hua Mountain Range collapsed. There is nothing needs to be worried about, your Majesty. The signs didn't mean good luck or bad luck." Right after Huangfu Song finished the story, a report from Yunzhou arrived, saying that a wheel-size cave appeared after a landslide in the Tai mountain. No one knew the depth of the cave. The Emperor sent an investigator to investigate it.

Meanwhile, there was a mountain house not far away from the cave. This house belongs to Old Master Sun. He had two sons. The elder son was a farmer. The younger son, who was becoming a schoolteacher, studied. One day, an unexpected leprosy hit schoolteacher Sun. He lost his hair and got pustules all over his body. Even his parents couldn't bear the smell. So they built an isolated hut, located about hundreds of steps away behind the house, for schoolteacher Sun to live. His wife sent him food every day.

One morning in the spring, his wife came to send him food. When she arrived at the door, she couldn't stand to see the sick schoolteacher Sun. She covered her nose and mouth with one hand, stretched another arm out to offer the food. Schoolteacher Sun signed: "A wife is someone who is supposed to share the same room when we are alive, and share the same coffin after we died. Now even my own wife is giving me the cold shoulder. How about others? What can I expect if I live longer?" Then his wife left.

Schoolteacher Sun felt he would rather die. He took his walking cane, put on his shoes which were covered in his pustule blood. He walked tens of steps north to his hut and saw the cave on the ground. He put down his walking-cane, took off his shoes and jumped into the cave. He felt someone was holding him in the cave. After a while, he recovered from his unconsciousness. He looked up, he could still see a piece of blue sky. He said to himself: "A moment ago I was desperate to kill myself. I never expected I would escape death!"

It was getting dark. He saw some light in the north. He started walking towards the light. After tens of steps, a white jade-like cane emerged. He reached out to the cane. It turned out to be a slightly opened gate. He leaned his shoulder on the gate and opened it. Once the door opened, everything appeared like under the sun light. Schoolteacher Sun found a stone chair. He decided to take a rest. Soon he fell asleep. After a little while, he woke up and stretched up. Suddenly his feet hit something soft. He was startled. What did he see? He didn't realize that the four hundred years history of the Han dynasty was here!

Schoolteacher Sun saw a giant python which about 3.3 feet long, with a body as thick as a tree trunk. When the python saw schoolteacher Sun, it ran back to the cave. Sun followed the python but lost it, instead, he saw a stone case. He opened the case. There is a book in it. This is a book which recorded the ways to cure four hundred and four diseases. It doesn't require the eight sacred herbs from Shennong (a well-known doctor in the legend), or refine anything, or any pills, or even medicine inducers. All he needed to do was to follow the instruction about relevant symptoms, cast a spell into water and drink it. This book was indeed a pharmacopeia of different diseases. Sun was very excited. He took the book, walked out the cave and sat on the chair.

At the same time. Sun's wife came to send him food, but she couldn't find Sun anywhere. She told Sun's father about this. His father and elder brother went out to search for him. When they searched to the cave, they saw the walking-cane and the shoes covered in blood. Sun's parents, his brother and wife were very sad, crying over the cave. Suddenly they heard someone yelling from the cave. They sent down a rope and rescued schoolteacher Sun. Finally the father and the son reunited. They cried together.
---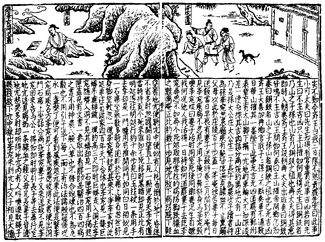 。。。實不知。今齊王與我三日限,不然責罪。』先生曰:『此事小可。』大夫曰:『先生知得,有官重賞,此事吉凶若何?』先生曰:『不主吉凶,只主山摧。』『如何見得?』先生曰:『銅鐵者乃山之子孫也,山者乃鋼鐵之祖也。』冉大夫得其意,即時入朝奏齊王。齊王設朝,冉大夫出班奏曰:『銅鐵皆鳴,不主吉凶。』王問如何。奏曰:『主山摧。』帝問:『卿怎知?』奏曰:『銅鐵者,山之子孫;山者,銅鐵之祖也。已無吉凶。』齊王大喜,加冉卿官職,子子孫孫不斷。奏畢,不過數日,華山摧其一峰。陛下此事,無吉無凶。」道罷,有鄆州表章至,有太山腳下塌一穴地,約車輪大,不知深淺。差一使命探其吉凶。
話分兩說。約離地穴有一山莊,乃是孫太公莊。太公生二子:長子為農;次子讀書,將為孫學究;忽患癩疾,有發皆落,遍身膿血不止;熏觸父母。以此於莊後百十步蓋一茅庵獨居。妻子每日送飯。
當日早辰,有妻子送飯。時春三月間,到於庵門,見學究疾病,不忍見之,用手掩口鼻,斜身與學究飯吃。學究嘆曰:「妻子活時同室,死後同槨,妻兒生自嫌我,何況他人?我活得一日待如何?」道罷,妻子去訖。
學究自思:不如尋個死處。取那常拄的病拐,腳跌膿血之鞋,離庵正北約數十步,見地穴,放下病拐,脫下鞋,望著地穴便跳。穴中便似有人托著,倒於地下,昏迷不省。多時忽醒,開目望,直上見一點兒青天。學究道:「當時待覓個死來,誰知不死!」
移時黑暗,卻見正北有明處,遂往明處行,約十餘步,見白玉拄杖一條,用手去拿,卻是一門縫,用肩推開洞門,如同白日相似。見一石席,坐,氣歇多時,身困,臥於石席上睡著。忽然舒身,腳登軟忽一塊。學究驚起,見甚來?不爭學究到此處,單注著漢家四百年天下合休也!
學究見一條巨蟒,呆粗細做一塊,約高三尺。即時,巨蟒走入洞去。學究隨蟒入洞,不見其蟒,卻見一石匣。學究用手揭起匣蓋,見有文書一卷,取出看罷,即是醫治四百四病之書,不用神農八般八草,也不修合炮煉,也不為丸散,也不用引子送下,每一面上有治法,諸般証候,咒水一盞,吃了便可。看到風疾處,元來此法便是醫學究病疾名方。學究見了,喜氣盈腮,收得天書,便出洞門,石席上坐。
話分兩說。學究妻子又來送飯,不見學究回來,告與公公得知,即時將引長子等去尋。行至地穴邊,見病拐一條,膿血之鞋。父母兄長妻子,皆繞地穴悲哭多時。卻聽得地穴內有人叫喚。遂取繩子,懸枝放下穴中,救出學究,來到穴上,父子相見,大慟,。。。
Ad blocker interference detected!
Wikia is a free-to-use site that makes money from advertising. We have a modified experience for viewers using ad blockers

Wikia is not accessible if you've made further modifications. Remove the custom ad blocker rule(s) and the page will load as expected.