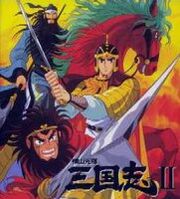 Yokoyama Mitsuteru Sangokushi (横山光輝 三国志) is a Japanese animated series based on Sangokushi manga by Mitsuteru Yokoyama. It is based on Luo Guanzhong's Romance of the Three Kingdoms.
Plot summary
Edit
From Anime News Network
China, 184 A.D. The Han dynasty was about to collapse. Corruption was rife and rebellions broke out throughout the kingdom. Liu Bei, an ordinary straw mat weaver of Hebei, found that he is a descendant of the former emperor. Aided by his two oath brothers, Guan Yu and Zhang Fei, he sets out his journey to pacify the kingdom. This anime, a relatively faithful rendition of the Chinese classics, "The Romance of the Three Kingdoms," retells the story from Yellow Turban Rebellion up to the aftermath of the Battle of Chi Bi.
Characters
Edit
An original character in the anime, she was Liu Bei's apprentice who grew up to be his wife. She died of her injuries during the Battle of Changban, this makes her based on Lady Mi.
Although his name should be Xiahou Dun (夏侯惇), both the anime and the manga named him Xiahou Chun (夏侯淳).
Eastern Wu
Edit
Ad blocker interference detected!
Wikia is a free-to-use site that makes money from advertising. We have a modified experience for viewers using ad blockers

Wikia is not accessible if you've made further modifications. Remove the custom ad blocker rule(s) and the page will load as expected.