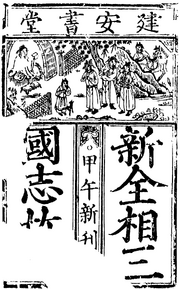 The
Sanfen shilüe
三分事略 (
A Brief Account of the Tripartation
) is a fictionalized account of the
Three Kingdoms
period. It's basically an earlier edition of the better known
Sanguo zhi pinghua
. Both of these works are believed to have been a big source of inspiration or set the foundation of the popular novel
Romance of the Three Kingdoms
.
The Sanfen shilüe is almost identical to the Sanguo zhi pinghua. The style of the art is different, more simplistic, but the images all depict the same scene, with the same characters, all in the same pose and placing on the image. All chapters also have the same title as its successor and the main body text is nearly identical as well.
Ad blocker interference detected!
Wikia is a free-to-use site that makes money from advertising. We have a modified experience for viewers using ad blockers

Wikia is not accessible if you've made further modifications. Remove the custom ad blocker rule(s) and the page will load as expected.