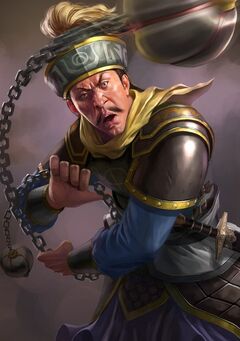 Bian Xi
卞喜 is a
fictional character
, presumably made up by
Luo Guanzhong
. In
Romance of the Three Kingdoms
he first appears in chapter 27, as a
Yellow Turban
.
Biography
Edit
Bian Xi was from Bing Province and for a weapon wielded a comet hammer; he had served the Yellow Turbans but went over to Cao Cao who made him a warden of Sishui Pass. When Guan Yu attemped to return to Liu Bei, Bian Xi decided to ambush him in the State Guardian Temple after luring him with refreshments. Bian Xi acted friendly to Guan Yu and promised to explain Guan Yu's actions to Cao Cao, but Guan Yu was warned by a priest called Pujing about the plot. Guan Yu went into the temple and confronted the shocked Bian Xi who ordered the assassins to attack. Guan Yu caused them to scatter, cut the cord of the comet hammer, then split Bian Xi into half with one blow.[1]
References
Edit
↑ Luo Guanzhong, Romance of the Three Kingdoms, chapter 27
Ad blocker interference detected!
Wikia is a free-to-use site that makes money from advertising. We have a modified experience for viewers using ad blockers

Wikia is not accessible if you've made further modifications. Remove the custom ad blocker rule(s) and the page will load as expected.